So brilliant people come up with brilliant things... I am not one of those people! But, I get to use other brilliant people's ideas! SOOO I am going to participate in
A BOWL FULL OF LEMONS
, 31 Days of Organizing Challenge.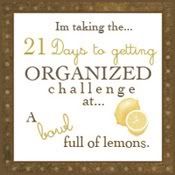 I know I have signed up to participate in a lot of stuff lately, but I NEED the inspiration! I need the accountability! I need the drive and motivation! SO LINK UP BABY!
Now I will not be doing every day of course, I have too much on my plate for that, but on the days she posts a challenge that I CAN do... it's on!
Today's challenge is:
Mail centers
...
I have a basic organization for this BUT it has gotten messy and I haven't kept up with it... so I ended up with mail going three different places instead of THE PLACE.
My desk is the HUB.. my clear container on the side contains bills, coupons, lists, items I need to keep up with like a confirmation letter...after I have paid a bill and no longer need it I throw it away-- it is all online now! If it is something I need to keep like a banking statement or something I put it in a box. I would like a small filing thing like A BOWL of LEMONS has because I would like it organized a little better, but I love the look of my small clear container, so I will have to think on that. It might include a trip to the Container Store to see what my options are! Poor me! :)
But alas for now I will simply straighten and keep my current system. I will however move the mail from THESE two other places, so that it is all back in ONE place.
So here is everything straightened.. .back to it's natural state!
Say Hello to Mr. Demi!
I used the small brown insert to specifically keep our Netflix movies in.. they are always ALL over the place!
I put the battery bag (I want a battery organizer.. I need to put it on my Want list!) in the brown odd shaped holder. The pastel container held candles, I am out right now--- gotta go to IKEA. Poor ME! But I would like a container more in tune with my brown stuff! Of course I am going to start working in the kitchen soon so all of this might change!
I cleaned out the other clear container on the school shelf. I really, really like this to be clean. I feel like I have soo much school stuff that the cleaner looking I keep it the happier I feel!
So that is that.. nice, neat and organized!
Now go take the challenge or organize something!